| | | |
| --- | --- | --- |
| SECTOR | KM | TIME |
| York to Youndegin | 66 | 0:45 |
| Youndegin to Tammin | 21 | 0:15 |
| Tammin to Mooranoppin | 28 | 0:22 |
| Mooranoppin to Dodolakine | 11 | 0:19 |
| Dodolakine to Metchering | 17 | 0:13 |
| Metchering to Totadgin | 32 | 0:22 |
| Totadgin to Durgacuttin | 17 | 0:22 |
| Durgacuttin to Burracoppin | 21 | 0:16 |
| Burracoppin to Boodalin | 46 | 0:34 |
| Boodalin to Sandford Rocks | 16 | 0:13 |
| Sandford Rocks to Keokanie | 25 | 0:19 |
| Keokanie to Moorine Rocks | 18 | 0:13 |
| Moorine Rocks to Kodjerning | 16 | 0:12 |
| Kodjerning to Koorkoordine | 29 | 0:28 |
| | | |
| TOTAL | 362 | 4:59 |
York to Youndegin – 66km
Travel to Balladong Farm at the corner of Parker Road and Avon Terrace, York, from where Hunt started his expeditions. Steven Parker who owned Balladong at the time (from 1848) was a generous supporter of exploratory ventures. 
Prominent settlers and supporters of the expedition would travel with expeditions to the first overnight stop and stay with the team for the first night before returning to York.
Hunt's first camp in March 1864 was Belmunging, in July 1864 it was Robert Hardey's sheep station near Wallaby Hills, in 1865 it was Needlands, one of Robert Hardey's sheep stations, and in 1866 it was at Toodlewundie, near Needlands.
Youndegin was the first of Hunt's wells and he considered it to be an important stopping place. On each of his four expeditions he camped at or passed through Youndegin.
Because this area is prime farm land, the Hunt Track, of necessity, follows existing roads between York and Youndegin.
The historic building at Youndegin has undergone a number of iterations over the years from Police Station to Wayside Inn. The well is only 80 metres north-east of the building and very close to the road.
Download GPX file.
Youndegin Well
Wayside Inn at Youndegin
Tammin Well
Youndegin to Tammin – 21km
The modern-day Hunt Track follows Goldfields Road to just short of Tammin.
The restored well at Tammin (signposted as Hunt's Well) is more than likely a well that was constructed in the 1890s' gold rush era or later. The size and shape of this well bears no relationship to the measurements of the well as stated by Hunt. Further, it is quite often confused with nearby Tammin Tank. Regardless of its connection with Hunt it is still a significant well that played an important role in opening up the goldfields.
Hunt's Well is at the western base of Tammin Rock.
Download GPX file.
Tammin to Mooranoppin – 28km
Partway along this section is Naraline Soak - now disappeared – ploughed into the paddock. A plaque on Goldfields Road, about a kilometre north-east of Great Eastern Highway, marks the spot where this soak once was. Naraline was a convenient resupply meeting point for Hunt and his team.
Mooranoppin is a further 10 kilometres along Goldfields Road.
At the time of Hunt's expeditions Mooranoppin was one of Robert Hardey's sheep stations. Hardey was Hunt's 2IC on his Koolyanobbing Expedition. Mooranoppin Well was built by Hardey and utilised by Hunt on each of his expeditions.
Download Track Notes (PDF).
Download GPX file.
Mooranoppin Tank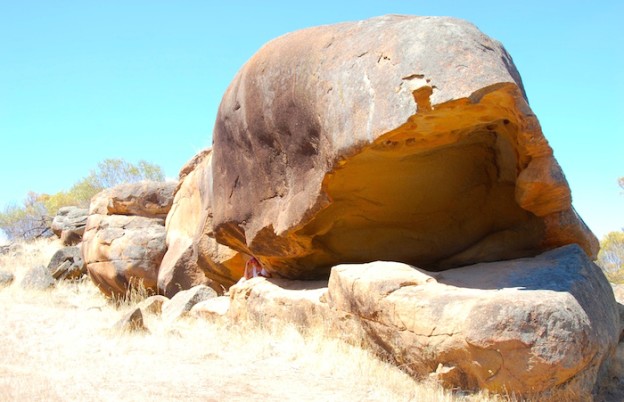 Inaptly-named Shark Mouth Rock
Mooranoppin to Dodolakine – 10km
Deviate 100 metres off Goldfields Road to see the inaptly-named Shark Mouth Rock. It is a large rock that has the appearance of a dolphin or moray eel - certainly not a shark.
The wattle trees in this area are spectacular in season.
Goldfields Road is routed through farming country virtually parallel with Great Eastern Highway.
Hunt's Well is at 'old' Doodlakine on Goldfields Road. Doodlakine derived its name from Hunt's Dodolakine Rocks, below which he sited his well. Doodlakine was suggested as a candidate for capital of Australia around 1907 before Canberra was selected in 1913. Current day Doodlakine is further south on Great Eastern Highway.
Hunt's Dodolokine Well is a 100 metre walk from the information rotunda/parking area.
Download Track Notes (PDF).
Download GPX file.
Dodolakine to Metchering – 17km
Hunt didn't want to route his Track as far south as Metchering, however, the thickets were too extensive and too impenetrable on a more direct line east so his options were limited.
From Doodlakine Well the Track follows Doodlakine North Road four kilometres south to current day Doodlakine on Great Eastern Highway. Take Bruce Rock-Doodlakine Road south-east to Metchering. The well built by Hunt's team is now on private property. Nearby Mindebooka Hill is an excellent camping spot.
Download Track Notes (PDF).
Download GPX file.
Metchering Rock
Totadgin Well
Metchering to Totadgin – 28km
The parking area is suitable for cars and camper trailers. There are picnic tables and interpretive signage. No fires, no water, no rubbish bins, no dogs.
This is a day use site only. Camping not permitted.
A formed gravel, disabled access pathway leads from the parking area to Hunt's Well. Continue west to the rock 'wave'. The walk to the top of the rock and return  is 1.8 kilometres. Allow 45 minutes to one hour of easy to moderate walking.
Totadgin Dam (not Hunt's work) is nearby.
Download Track Notes (PDF).
Download GPX file.
Totadgin to Durgacuttin – 17km
Modern day Hunt Track takes you through the Wheatbelt town of Merredin and presents a good opportunity to take a break from driving to enjoy the two kilometre Heritage Walk through the town. Merredin's Heritage-listed buildings include Cummins Theatre, the Court House and Town Hall. Collect the brochure from the Visitor Centre.
Merredin is the first resupply point on the Hunt Track. In Hunt's day it was just outside of known country
Hunts and his party had to contend with nearly impenetrable thickets, today known as tamma.
On numerous occasions his men were in camp repairing saddle bags, clothing and other equipment that that had been ripped and damaged by the thickets. At a number of locations Hunt was unable to route the Track along his preferred course because the tamma was so thick.
"start in an eastnortherly direction to ascertain if I could find a more direct track than round by Metchering but found the country too dense, very extensive thickets, this will doubtless be a more direct track but will require an immense amount of labour to cut through, which I cannot afford to spare at this time".
With the clearing of the Wheatbelt throughout the first 80 years of the 2oth century there is little tamma left, however, Tamma Parkland at O'Connor Street, Merredin on the south side of the town provides a good opportunity to see Merredin bushland in its original state and gain an understanding of what the early explorers and pioneers had to deal with.  Tamma does not refer to an individual species but rather thickets of various different species of trees up to two metres high, dominated by shrubby sheoak. The 23 hectares of Tamma Parkland provide a glimpse into the type of vegetation that was once found around Merredin before it was cleared fr farm land.. The parkland is home to 175 native plants in five habitat sites, including droseras, a variety of orchids, grevillea, hakea and mallee. As dense as the tamma is in the Park, Hunt recorded worse thickets elsewhere, notably east of Keokonie.
Merredin Peak Heritage Trail
Located off Benson Road. Parking for cars and campervans. It comprises the Rock Walk and the Bush Walk. These can be joined to become one longer walk.
The Rock Walk
Allow 30 minutes. The trail involves walking up and down two rock faces of moderate and steep slopes. Access is adjacent to the Railway Dam.
This trail offers scenic views of the town and adjacent bushland and interpretive signage along the way.
From the 1890s water from the rock was harvested and fed into the Railway Dam and then to the water tower in town to supply the steam trains.
The Bush Walk
This walk commences from the entrance to the Army Hospital site. Allow 30-45 minutes and up to 60 minutes if combined with the Rock Walk.
This walk traverses a variety of habitats from Wandoo woodland to tamma thickets. The bush to the east of the Walk is the home of the rare mallee fowl. Kangaroos, echidna and a variety of snakes and lizards are found in the reserve while most of the common bush bird species of Wheatbelt can be seen seasonally over a year. This Walk links with the Rock Walk or you can return directly to your starting point.
Head north out of Merredin on Telfer Avenue (becomes Chandler-Merredin Road) to the site of Hunt's Durgacuttin Well. The well has been subsumed by farmland, however, for those keen to see its location park on Maiolo Way (31 27 37.2S 118 17 31.96E) and walk through bush due north for 350 metres. The spring was in a gully running WSW.
More information.
Download Track Notes (PDF).
Download GPX file.
Totadgin Dam
Burracoppin Well
Durgacuttin to Burracoppin – 21km
From Durgacuttin follow Goldfields Road through farming country ENE to Burracoppin, one of Hunt's major early depots.
Download Track Notes (PDF).
Download GPX file.
Burracoppin to Boodalin – 31km
Leaving Burracoppin Well, a visit to the Rabbit Proof Fence No.1 is worthwhile.
Only 30 years after rabbits were introduced for sport in Victoria in 1859, they had crossed the Nullarbor and were in plague numbers in the eastern part of Western Australia. The government acted quickly, building what was then the longest fence in the world (3256 kilometres) in an attempt to stop the spread of the rabbit - Rabbit Proof Fence No 1.  This attempt at what today is known as biosecurity was less than successful.
An interpretive site is a kilometre to the east of the well along Goldfields Road. Return to Hunt Track via Goldfields Road and through the hamlet of Burracoppin.
Boodalin Soak (spelled variously as Boodahlin and Bodallin) is on the Westonia Commons. It is an excellent camping spot. Not to be confused with the hamlet/siding of Bodallin 20 kilometres south-east.
Hunt travelled through this area on his March 1864 Koolyanobbing Expedition and located this native well. Later that year, during his Exploration Eastward of York, he again visited the soak to water his horses.
In March 1865, during his Wells and Tracks Expedition his team opened out the native well. Logistical issues caused delays in stoning the well. Boodalin Soak is one of the best preserved of all Hunt's wells.
Boodalin Soak was where the notorious bushranger and escape artist Moondyne Joe was captured in 1866.
Download Track Notes (PDF).
Download GPX file.
Boodalin Well
Edna May Mine
Sandford Rocks
Boodalin to Sandford Rocks – 14km
On the way to Sandford Rocks visit the Edna May Mine, immediately to the north of Westonia.
Hunt developed a well at Sandford Rocks (he called it Yorkarakine), however, its location is not known. There is a well located on the creek line on the southern side of Boodarockin Road about 350 metres from the rock though it is not 'Hunt style' well.
The picnic area at Sandford Rocks Nature Reserve has tables, some shade but no drinking water or rubbish bins (take your rubbish with you). A 2.5km loop trail leads over the granite outcrop to a natural amphitheatre. The climb to the top of the rock is well worth the effort, providing grea views of he surrounding farmland.
This trail is not suitable for wheelchairs. Dogs are not allowed at Sandford Rocks.
Download Track Notes (PDF).
Download GPX file.
Sandford Rocks to Keokanie – 17km
Part of this section closely follows the original track. 
Hunt used Keokanie as a depot in 1865. The location of the well at Keokanie is not known and the Bicentennial plaque is arbitarily placed. 
There are no facilities at Keokanie Rock.
Download Track Notes (PDF).
Download GPX file.
Bicentennial plaque at Keokanie Rok
Moorine Rock Well
Keokanie to Moorine Rock – 18km
Hunt first recorded the name for this rock in 1865. The well that Hunt's party built is on the south side of the rock.
The wheat farming town on the Great Eastern Highway 16 kilometres to the south-east took its name from the rock. It was originally named Parkers Road but was changed in 1926 because it was causing confusion with nearby Parkers Range.
When making his Track in 1865 Hunt wanted to route it directly to Koorkoordine, 40 kilometres to the east, however, he knew from his previous travels that there was little water and virtually impenetrable thickets in that direction. Regardless, Hunt set his team to make the Track towards Koorkoordine but after cutting through thickets for a day work was abandoned. Hunt decided that it was preferable to steer south-east to Moorine Rock and so that is the direction the Track took.
Download Track Notes (PDF).
Download GPX file.
Moorine Rock to Kodjerning – 15km
From Moorine Rock Hunt was able to push his track east to Kodjerning. The current day Track (along Moorine Rock Road) closely follows the original.
Download Track Notes (PDF).
Download GPX file.
Kodjerning Well
Koorkoordine Well
Kodjerning to Koorkoordine – 26km
The original Hunt Track between Kodjerning and Koorkoordine has been lost to farm land.
Download Track Notes (PDF).
Download GPX file.
To the Goldfields
Into the Desert